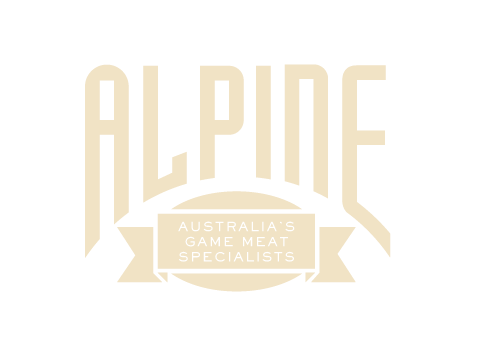 Camel
---
Our Camels are mostly Harvested from the Northern Territory Outback. They are Free Range and Chemical Free. A delicious flavoursome lean healthy meat. It can be cooked similar to beef or lamb.
---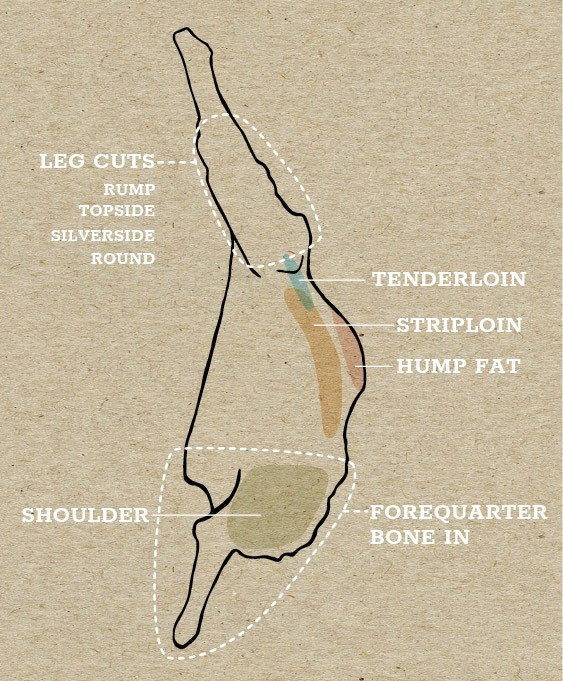 Camel Common Cuts
STRIPLOIN AND TENDERLOIN
Main cooking method: Ideal for pan frying or BBQ. Also suitable for roasting.
LEG CUTS – RUMP, TOPSIDE, SILVERSIDE AND ROUNDS
Rump: Pan-fry grill or roast.
Topside: Roast, casserole, curry, braise, smoked or dried
Silverside: Casserole, curry, braise, smoked or dried
                  Round: BBQ, roast, casserole, curry, braise, smoked or dried.
SHOULDER OR BLADE BONELESS
Can be used for slow roasting or diced for wet dishes, casseroles and curries or minced for burgers.
DICED BONELESS OR BONE IN
Used for wet dishes such as casseroles and curries. Sear gently then cook at low temperature.
MINCE
Ideal for pan-frying, pasta sauce and rissoles.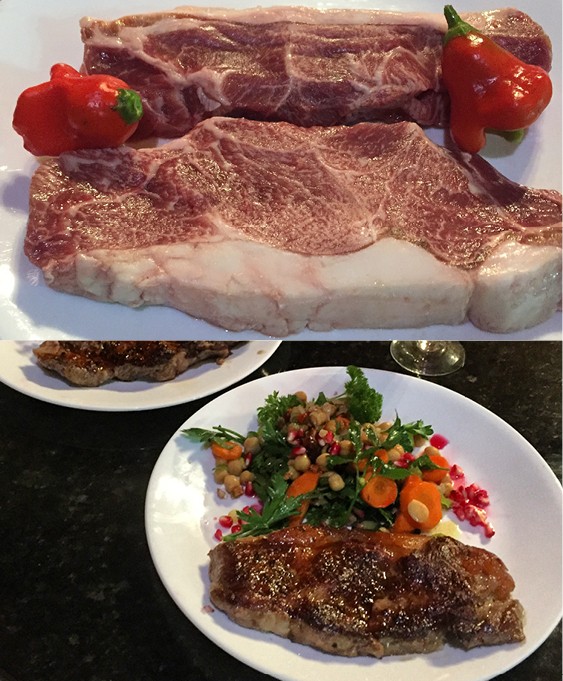 Camel Cooking Tips
IT'S LEAN, DON'T OVER COOK IT
Camel is low in fat and is best served medium-rare.
DON'T COOK COLD
Bring the meat to room temperature before cooking it.
OIL THE MEAT NOT THE PAN
When grilling, barbecuing or pan-frying steaks, first brush each side of the meat with a little
oil, before searing the steaks for 4-6 minutes on each side. Then rest for 5 minutes covered on a warm plate or in a low oven.
ROASTING
When roasting larger cuts, first sear all sides of the meat to seal in the juices. A lot of roasting recipes for camel has camel done in an oven with water or as a pot roast to keep it moist.
REST IT
After cooking, let your camel rest, covered, for 5-10 minutes to allow the juices to evenly disperse.
Camel - Size & Packaging Information
---
| Camel | SIZE AND PACK |
| --- | --- |
| Tenderloin | per kg IW/VAC |
| Striploin/Cube Roll | per kg IW/VAC |
| Fillet Retail | Vacuum skin pack 300-400gm/ Tray |
| Rumps | per kg IW/VAC |
| Topsides | per kg IW/VAC |

| Camel | SIZE AND PACK |
| --- | --- |
| Silversides/Rounds | per kg IW/VAC |
| Shoulder / Blade bone in | per kg IW/VAC |
| Shoulder/Blade boneless | per kg IW/VAC |
| Sausages | per kg loose |
| Trim | per kg |
---